North Atlanta Landscaping Masonry specialists In Cumming, GA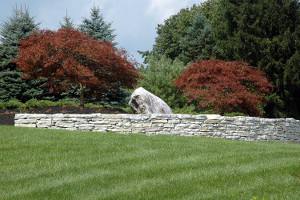 The best in Atlanta area Landscape Masonry Services are provided by our expert Atlanta Masonry specialists at Flowering Field Designs. As the premier Landscaping Service Company in the Northside Atlanta area, our Masonry Services are second to none. Whether you're landscaping project needs our professional Atlanta landscapers for brick, concrete, natural stone, or pavers, our team is ready to build the perfect hardscape for your home's exterior landscaping needs.
Your landscape design will probably include many areas where you'll have hard materials or structures that need masonry work. The addition of You can even create your own oasis with outdoor rooms bounded by your favorite natural stone. With the right hardscape for your home's exterior, you'll have the peace and serenity in your own backyard that others have to travel to find.
Masonry in landscaping includes the design and build of hard materials that create both functional and aesthetically pleasing structures around your home including:
Walkways
Driveways
Retaining Walls
Structure Cladding
Pathways
Foundations
Sidewalks
Planters
Outdoor Seating
Steps
Stairs
Terracing
Patios
Porches
Swimming Pool Walkways
Natural Stone Masonry Options in Cumming, GA
You have so many choices in natural stone that it's difficult to list them all. Among the top favorites are Flagstone, Sandstone, Bluestone, Soapstone, Travertine, Quartzite, and Granite. With natural stone, you have outdoor hard surfaces that stand up well over time to the weather and the effects of wind, rain, heat, sun, and other natural destructive forces.
The best hardscapes have differing types of materials that combine to give color and texture variations, such as an outdoor seating area with the warm reddish brown and golden tones of flagstone flooring and nearby bluish toned slate pieces in the garden bed For beautiful hardscapes that are durable, long lasting, easily repairable, and completely functional, natural stone is the way to go for all your hardscape needs.
Other Masonry Options For Your Cumming, GA Landscape
Walls and sunken terraces can give you that "cozy" feeling of isolation to entertain your friends or simply relax.
Formal Bluestone, Fieldstone, and Granite can harmonize with your home colors and remain vivid and true over time. The natural irregularity of stone eases transitions from patios to walkways and on to lawns.
Pavers can be set anywhere and are favored by many homeowners as a less formal option for hardscapes. They're easy to set and replace when necessary and create durable surfaces. Set in sand, Pavers are perfect for walkways and pathways or patio areas where you don't want a concrete slab or foundation.
Brick is a classic and long-standing favorite building material that gives the rustic, outdoor feeling a little class. Neat and tidy and available in an array of colors and tones, brick hardscapes bring a sophisticated elegance into your landscape.
Recent Articles
There's nothing like a little outdoor fun during the summertime here in johns Creek, Georgia. Many families enjoy swimming, barbecuing, picnicking, fishing, boating, and more. Beautiful homes with beautiful landscapes sport plenty of areas for entertaining guests and family with plenty of room for the kids to play around and have fun.

---

Your choices in natural stone for your Atlanta area home landscaping project are wide open. No matter your favorites in natural stone, our Masonry specialists at Flowering Field Designs are ready to build to suit your preferred landscaping design plans. Natural stone comes in many forms of real stone quarried or taken from the earth.

---
If you are looking for Masonry specialists in Atlanta, call Flowering Field Designs at 770-241-6301, or fill out our online request form.