Quality Construction Pool Houses For Your Atlanta Home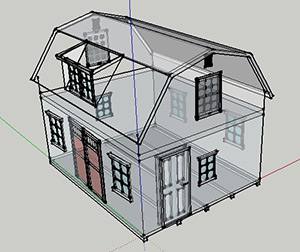 If you're wanting a protected area near your swimming pool to store your pool floats, inner-tubes, pool toys, pool accessories, cleaning equipment, outdoor furniture, food, drinks, garden supplies, fishing supplies, and more, the Pool House is a must have addition to your landscape. With our quality constructed Pool Houses, you'll have plenty of addition space for all your pool-side needs.
If you're frustrated with a little shed that barely holds your pool cleaning equipment, it's time to upgrade to a Pool House from Flowering Field Designs that can handle all your storage needs. With a maximized layout taking full advantage of the sun's path as it travels across your landscape, the Pool House will be constructed to lie in the right direction that produces the most shade possible.
Our Pool Houses in Atlanta will give you plenty of space and can add to the aesthetics of your backyard landscape. Nestled near or next to your swimming pool, the structure can incorporate plantings, sidewalks, or walkways that enhance the beauty of your outdoor spaces.
We have several examples of Pool House configurations for you to take a look at, but remember we have more options for you, especially in the way of colors and siding finishes. We can duplicate or simplify any of the models we show you. For instance, consider having your Pool House converted for use as a potting shed!
About Our Pool House Structures
The structures carry a reputation that echoes 30 years of experience and a written limited warranty. Some structures are less than 10ft 6in tall, so they can be delivered completely finished to your site. More customized structures have 8 ft walls and steeper roof pitches that need on-site assembly.
We can customize roof pitches, porches, and overhangs to make unique buildings. Further, we can add 30-lite glass double doors to give that open feeling from within the Pool House. Our design process lays out the top view of your yard in a scale drawing that is useful for permit regulations.
Foundations For Your Pool House Construction
If special foundations are required for your town's permit, we can ease the process by designing and building the required foundation. Our emphasis is FULL SERVICE from design to delivery, including several iterations of 3D drafting, if you need to visualize your options.
If you're ready to go to see what Pool House ideas we have for you, just take a look at our beautiful Pool Houses and give your Atlanta Landscapers a call! We're sure you'll find one you're going to love! Our options and styles come in an array of beautiful colors that will go great with your current home's structure. And with all your customization options, you'll have everything you're looking for in a Pool side House that looks gorgeous in your back yard!
Recent Articles
There's nothing like a little outdoor fun during the summertime here in johns Creek, Georgia. Many families enjoy swimming, barbecuing, picnicking, fishing, boating, and more. Beautiful homes with beautiful landscapes sport plenty of areas for entertaining guests and family with plenty of room for the kids to play around and have fun.

---

Your choices in natural stone for your Atlanta area home landscaping project are wide open. No matter your favorites in natural stone, our Masonry specialists at Flowering Field Designs are ready to build to suit your preferred landscaping design plans. Natural stone comes in many forms of real stone quarried or taken from the earth.

---
If you are looking for Pool House services in Atlanta, call Flowering Field Designs at 770-241-6301, or fill out our online request form.