Beautiful North Atlanta Container Gardening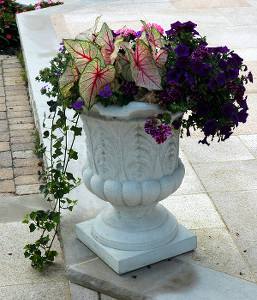 Every home is enhanced with Atlanta Container Gardening from Flowering Field Designs. We can give you many options for beautiful Gardening Containers that are mobile to hold all your favorite plants, herbs, shrubs, flowers, grasses, cacti, and more.
One of the great features of Container Gardening is that the plants can be easily moved around when needed, or switched out when you're bored with the plant and just want something different. Container gardens are great to beautify any area and are the perfect decoration for outdoor parties, entertaining special occasions.
We have unusual plants for your landscape and plenty of options in containers to suit your needs. In the springtime, it's best for you to order by April 15th for any party planning or other needs in May or June because the best plant colors are in short supply at that time. Annuals are always planted at full size for instant gardens.
Kitchen Herb Garden Container Gardening in Cumming, GA
We can arrange your favorite herbs in large containers for your own kitchen herb garden! Imagine being able to peruse your nearby patio area for the evenings selection of fresh herbs to enhance your favorite meals. There's just nothing like the taste and delicate aromas of the home herb garden.
Our Container Gardening solutions at Flowering Field Designs give you options in instant gardens as well as containers or urns that are ready for planting.
Potted Plants Container Gardening in North Atlanta
As your local Atlanta area potted plant experts, we can make your landscaping look fabulous with our Container Gardening ideas. Potted plants can be moved around wherever you like and can contain any type of plantings you love. We have plenty of solutions in ready to go instant garden potted plants as well as empty containers or urns ready for your favorite flowers, ivies, or other shrubs.
Fully Serviced Container Gardening
Your Atlanta landscapers offers you full services for your landscaping including Container Gardening. You'll have design options that include plant groupings in new planters that you approve and are re-arranged on your space, to instant garden container options with already planted foliage you can have switched out later.
Recent Articles
There's nothing like a little outdoor fun during the summertime here in johns Creek, Georgia. Many families enjoy swimming, barbecuing, picnicking, fishing, boating, and more. Beautiful homes with beautiful landscapes sport plenty of areas for entertaining guests and family with plenty of room for the kids to play around and have fun.

---

Your choices in natural stone for your Atlanta area home landscaping project are wide open. No matter your favorites in natural stone, our Masonry specialists at Flowering Field Designs are ready to build to suit your preferred landscaping design plans. Natural stone comes in many forms of real stone quarried or taken from the earth.

---
If you are looking for Container Gardening in Atlanta, call Flowering Field Designs at 770-241-6301, or fill out our online request form.