Excellent Flowery Branch Landscapers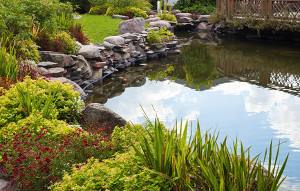 Living in Flowery Branch, your home's landscaping needs can be taken care of by our professionals at Flowering Field Designs.
When it comes to outdoor landscaping, there are a variety of things that you can do yourself, but many things that require special machinery and hours of labor to accomplish. Designing and building a landscape that's beautiful, functional, and just right for your property features isn't easy. That's why it takes a team of professionals to accomplish most landscaping projects.
At Flowering Field Designs, our Flowery Branch landscapers have it all taken care of for you with managed projects by a team of experts who are fully experienced masons, landscape designers, landscape specialists, and top rate craftsmen.
Professional Landscape Design in Flowery Branch
Your Flowery Branch landscaping design project of choice is basically wide open to your ideas, creativity, and needs for you and your family. Our Flowery Branch landscapers listen to all you have in mind and work hard to provide you with the design options you're looking for. We'll give you several options of digitally rendered landscapes that are overlaid on your digitalized current landscape. With 3D design and drafting capabilities, you'll be able to easily visualize what your options will look like prior to the plan beginning.
Professional Landscaping Services in Flowery Branch
If you want to make your yard look as beautiful as possible, let us help you with design options and more so you can benefit from all the advantages of having a professional landscaping company take care of your project. Our team of professionals are ready to give you the landscape of your dreams.
Cabanas For Your Flowery Branch Home
Our beautiful Cabanas will look lovely in your home's landscape. You'll have many options in Flowery Branch Cabanas styles, colors, and layouts, and you'll have other options in building structures as well such as horse barns, small livestock shed, garages, storage sheds, potting sheds, garden sheds, and more. Cabanas are finished on the inside and ready to go for your entertaining or swimming pool fun. Whether you want to use them for guests, barbecues, lounging around, or enjoying drinks, there's no better structure you could get for your pool-side fun.
Built by hand all our buildings are constructed with high quality craftsmanship. You just can't get better quality. Plus, you'll have many customization choices and style and color choices so you can match your home's architecture and style. For the best all around service that's personalized strictly for your needs, call on the pros at Flowering Field Designs!
Flowery Branch, GA Landscape Design & Custom Structure Services
If you are looking for a Flowery Branch landscaper, call A Flowering Field Designs at 770-241-6301, or fill out our online request form.