Atlanta Custom Cabanas Suited Just For You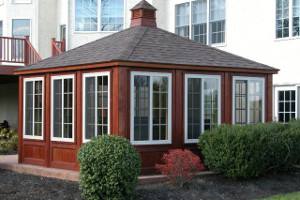 You have a beautiful custom home but something's missing in your outdoor living spaces. You need the addition of a beautiful Custom Cabana for additional outdoor space to have parties, entertain guests, and enjoy your family time outside. At Flowering Field Designs, we can provide you with a beautiful finished structure perfectly suited to your needs.
Our Atlanta Custom Cabanas are the perfect solution when you need a private outdoor room. They are useful for just about anything you desire including studios, offices, or guest rooms. Our buildings are distinct with interior walls that are finished and ready for use, including wiring to offer you electrical power sources.
Your new Atlanta Custom Cabana will be planned with considerations that produce the maximum possible shaded area and more. Our design process also lays out the top view of your yard in a scale drawing that you can use for town permitting regulations.
Customization options are available to ensure your Custom Cabana is useful for the purpose you're wanting to design and use it for. These buildings include interior finishing and can include built-in or customization options such as shelving and more. We can duplicate or simplify any option shown according to your Custom Cabana needs.
Customized Cabana Roof Profiles & Overhangs - We can customize roof profiles and overhangs to make unique buildings.
Custom Windows and Screens for Your Cabana - Windows and screens can be added to give that open feeling from within the Cabana. Be able to open windows and enjoy the evening breeze while you entertain and watch the sun go down!
Custom On-Site Cabana Assembly and Finishing - Some structures are less than 10ft 6in tall, so they can be delivered completely finished to your site. More customized structures have 8 ft walls and steeper roof pitches that need on-site assembly.
Cabanas Constructed With Quality - Our Cabana structures carry a reputation that echoes 30 years of quality craftsmanship experience with a written limited warranty.
Design & Build Cabana Foundations - If special foundations are required for your town's permit, we can ease the process by designing and building the required foundation. Our emphasis is FULL SERVICE from design to delivery, including several iterations of 3D drafting so you can visualize your options more clearly.
Landscape Design Suited For Your Custom Cabana - Our landscape designs can include the addition of an array of surrounding plants, walkways, and more that soften the impact of the new building.
Custom Cabanas from Flowering Field Designs offer you opportunities for protected outdoor space. They can serve a multitude of functions including:
Entertaining small or larger groups
Keep water or mud tracking out of the main house
Poolside snacking, lounging, and relaxing with protection from insects, weather, humidity
Bathroom with shower and changing room
Full or partial kitchen area
Bar, icemaker, cabinetry
We have several examples of cabana configurations for you to peruse, so take a look at our beautiful Cabanas because we're sure you'll find one perfectly suited for your needs! Plus, your Atlanta Landscapers have options and styles with an array of beautiful colors that will go great with your current home's architectural style. With customization options, you'll have everything you're looking for in a great little Cabana that adds function and appeal to your landscape!
Recent Articles
Cabanas make the perfect addition to any Altanta backyard landscape, garden, or poolside. These unique structures offer ultimate shade from the son as well as a great place to relax and getaway. No matter what type of landscape you have - whether it's the beach, the woods, or a nice view of the plains, cabanas offer flexibility that works in almost any setting.

---

There's nothing like a little outdoor fun during the summertime here in johns Creek, Georgia. Many families enjoy swimming, barbecuing, picnicking, fishing, boating, and more. Beautiful homes with beautiful landscapes sport plenty of areas for entertaining guests and family with plenty of room for the kids to play around and have fun.

---
If you are looking for Cabanas services in Atlanta, call Flowering Field Designs at 770-241-6301, or fill out our online request form.