Cabana Essentials: What You Need to Know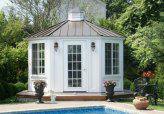 Cabanas make the perfect addition to any Altanta backyard landscape, garden, or poolside. These unique structures offer ultimate shade from the son as well as a great place to relax and getaway. No matter what type of landscape you have - whether it's the beach, the woods, or a nice view of the plains, cabanas offer flexibility that works in almost any setting. There are numerous features and accessories for cabanas, and they can be custom designed and built to suit your personal taste and style.
Cabanas Are A Popular Choice
There are plenty of reasons to own a cabana: If you enjoy entertaining guests a cabana creates a great social atmosphere where food and drinks can be served, or entertainment can perform. It makes a great outdoor dining area for the family. If you're looking for a decorative way to store your items then a cabana combines style and functionality all in one. With the right design, a cabana can even be used as an additional bedroom or changing area by the pool. Need a play room for the kids? Why not consider a cabana as a great option away from the main house? Some homeowners like using their cabana as a workout room. Whatever you want, a cabana can give it to you.
Cabana Styles
Cabanas essentially come in 3 main styles For instance Spa cabanas, which are hugely popular are room-size structures located near pools or porches. Spa cabanas can range from basic structures with curtains all the way to decorative buildings that house spas and Jacuzzi. Beach cabanas resemble a small tent. These intimate canopies are used to cover a lounge or beach chair and can generally house one or two people. Cabana chairs are beautiful beach chairs that provide great sun protection for 1 to 2 people. They come in a wide array of colors and can easily be moved around.
Custom Designs
The size and type of cabana you choose will depend on the size of the area you have in mind for implementing the structure. Once you determine how much space you can create for the cabana, then you can start thinking about the shape and dimensions of the cabana itself. One thing to keep in mind is how level ground is where you are building. Ideally, you want the landscape to be graded with a hard surface for your cabana to rest on. Cabanas are easily adjustable, so if you decide to start with a simple design, you can always build on it later. The possibilities are endless for designing you cabana. You can have it built to match your current backyard design.
Customizing A Cabana
A cabana can be built to any size and can be customized in variety of ways. If your Atlanta cabana will be used as an additional room for activities, then you'll need to consider additional construction in order to make the cabana durable and weatherproof. This will actually add value to your property and give you more options for construction such as a small kitchenette or a bathroom. A cabana that will be used as a sun shade also has a sturdy framework that can support heavy curtains to provide the ultimate protection from the sun. Paint provides an additional feature in which you can use tones and designs in order to enhance your cabana.
If you're looking for Altanta landscape designer, call Flowering Field Designs at 770-241-6301, or fill out our online request form.