Top Quality Atlanta Horse Barns & Run-in Sheds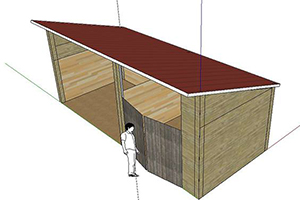 Instead of no protection or measly protection from an old lean-to shed, provide your livestock with better protection and add to the appeal of your property with Atlanta Horse Barns or Run-In Sheds from Flowering Field Designs. Our Horse Barns and Sheds offer your animals a place to shelter out of the weather when they need it. Plus, with the right floorplan, you can have storage areas for feed, tools, equipment and more.
As a livestock owner, you understand how important it can be to protect your animals and take good care of them. Yet, you're a homeowner as well with a beautiful home that you want to enhance, not take away from. Our Horse Barns AND our Run-In Sheds give you beautiful design options that will enhance your home's exterior style. In this way, you're not only adding function to your property but also aesthetic appeal that can add to your home's value.
Quality Constructed Barns and Run-In Sheds
All of our outdoor structures including Horse Barns and Run-In Sheds are quality built. You'll have several options in design plus customization options to give you a variety that fits your individual style and functionality. Flowering Field Designs believes in high quality interior and exterior building with close attention to detail. Solid-oak kickboards and steel-reinforced corners make these sheds tough.
Foundation Options in Horse Barn or Run-In Sheds
We can provide simple foundations to level and preserve the structures. Without a foundation of some type, the sideboards of the structure and any low to the ground areas will be exposed to the damaging effects of the soil, grass, or any low lying foliage. Our crushed-rock foundations offer you the minimal extra cost, providing you with the right leveling and elevation for drainage of siding materials so they aren't constantly exposed to damaging conditions.
Custom Designs For Barns
We've had plenty of experience with designing custom barns for small livestock like donkeys, goats, ponies, chickens, and more. Your Atlanta Landscapers can provide you with a custom structure and include options like a "chew-proof" interior. Smaller livestock, especially goats, tend to love to chew on anything, so be sure to consider this option if you're housing this type of animal.
Interior 6x6in beams can be removed for more-roaming space within. Livestock needs to be able to move around, and with this option in customization, you'll be providing them a protected area to get a little movement into their activities while housing them.
Atlanta Horse Barns or Run-In Sheds from Flowering Field Designs offer you a beautiful solution to protect your livestock. Whether you want to provide full protection with the Horse Barn or partial with a Run-In Shed, they'll be safe and covered when bad weather hits, they are birthing, sick, or need to rest in the shade. Options give you flexibility in interior and exterior choices so you can find the right type of structure for your individual needs.
Recent Articles
There's nothing like a little outdoor fun during the summertime here in johns Creek, Georgia. Many families enjoy swimming, barbecuing, picnicking, fishing, boating, and more. Beautiful homes with beautiful landscapes sport plenty of areas for entertaining guests and family with plenty of room for the kids to play around and have fun.

---

Your choices in natural stone for your Atlanta area home landscaping project are wide open. No matter your favorites in natural stone, our Masonry specialists at Flowering Field Designs are ready to build to suit your preferred landscaping design plans. Natural stone comes in many forms of real stone quarried or taken from the earth.

---
If you are looking for Horse Barns & Run-in Sheds services in Atlanta, call Flowering Field Designs at 770-241-6301, or fill out our online request form.