Outdoor Barbecue Safety Tips While Enjoying Your Johns Creek Landscape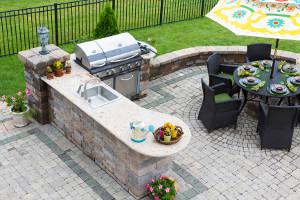 There's nothing like a little outdoor fun during the summertime here in Johns Creek, Georgia. Many families enjoy swimming, barbecuing, picnicking, fishing, boating, and more. Beautiful homes with beautiful landscapes sport plenty of areas for entertaining guests and family with plenty of room for the kids to play around and have fun.
If you've had some Johns Creek landscaping work done and you have a great hardscape or patio area, there's nothing like some good barbecue cooked on the grill.
Outdoor barbecues are great for traditional get-togethers with friends and family. As professional Johns Creek landscapers, we'd love to help you out with a few tips for safety during your outdoor experiences. With all the activity that goes on during entertaining, it's easy for someone to get hurt if careful attention isn't paid by the host and host family members to ensure everyone's safety.
Here are a few things you'll want to be mindful of as you and your family enjoy your outdoor spaces this year.
Grill Cooking On Your Outdoor Landscaped
Cooking on the grill is a lot of fun for many home cooks and there's no better place to do it than your landscaped patio area. No one wants to be stuck indoors when the weather is great and cooking and eating outdoors is a great alternative. But there are a few things you'll want to consider about outdoor barbeque safety .
Grills need to be only used outside in a well ventilated area unless they're an inset piece of equipment installed in your home's kitchen by the builder.
Station the grill away from any wood or any other flammable objects. Deck railings, wood decks, tree branches or foliage, and more can easily catch fire if coals or flames reach them.
Never leave the grill unattended, especially when there are pets or children that can touch them. It only takes a second to get badly burned on a hot grill or grill exterior.
Be sure the grill is kept clean of grease and fat buildup. A little seasoning on the grill is okay but it should never be left to build up because resins within the buildup will easily catch fire and are difficult to put out once they do.
Clean out and replace any grease or food collectors under your grill. Keep an eye on any trays because they can easily spill over and cause a greasy area for fire to catch easily. Even thrown out cigarettes could potentially light it up.
Be careful with propane and ensure the tank you are using is newer, not rusted, and is hooked up tightly. Propane can cause burns if it comes into contact with your skin because it's a very cold gas.
Make sure when you transport propane that the pressure release valves stays closed and a cap or plug is in place over the valve.
Don't use too much lighter fluid if you use charcoal instead of gas. You don't want the pile blowing up in your face and burning your eyebrows or hair off your face and head.
All in all, at Flowering Field Designs, we hope you have a lot of outside fun this year, and if you're interested in making some landscape improvements for an even better time next year, just give us a call and we can show you several options you're going to love!
If you're looking for more about outdoor barbeque safety by Johns Creek Landscapers, call Flowering Field Designs at 770-241-6301, or fill out our online request form.