Superior Cumming Landscaper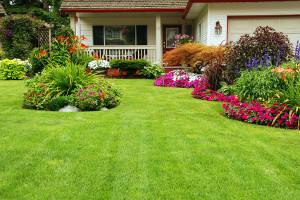 Landscaping is an artistic talent that requires just as much talent as it does skill. Unfortunately, not everyone is blessed with landscaping talents, and it can be difficult for some homeowners to create a beautiful landscape on their own, and maintain their home's curb appeal, when they don't have the proper support of a professional landscaping company.
Flowering Field Design's professional Cumming landscapers provide high quality landscape services including landscape designs, landscape installations, masonry, container gardening, nursery services and customized sheds, horse barns, cabanas, pool houses, garages, and more!
Professional Landscape Design in Cumming
The creation of a Cumming landscaping design project whether it be formal or informal can be very exciting for all of those involved. There is nothing more enjoyable than investing in a project that you will soon reap the benefits from for years to come. A landscaped yard is a great way to improve the exterior appearance of any home or business and add value to the property.
Flowering Field Designs is a Cumming landscaping Company that provides specialized landscape designers who can help you create the perfect design plan for your home's exterior. We customize all of our landscape designs to meet your specific needs and property requirements. Whether you want a landscape that requires little maintenance or you're ready for a truly astounding change, we're ready to help.
We have the ability to create long lasting designs with foliage that will look great all year long through the use of plants, trees, flowers, pathways, hardscapes and water features. Have you wanted an herb garden for some time so you can use fresh spices for cooking? Our container gardening is perfect for this!
You're options are wide open with Flowering Field Designs! When you want a one of a kind yard that looks amazing and that you're proud to show off, call the professionals at Flowering Field Designs!
Professional Landscaping Services in Cumming
Our experienced team has the skills, experience, equipment, and talents required to help you extend your personal style into the exterior areas of your home and yard. As a professional Cumming Landscaping Company we consider your property details and all your preferences as homeowner when creating your landscape Design.
Our experienced team of landscapers and masonry experts then handle the implementation of the design you've chosen. We help with permits and can lay foundations for your custom structures according to building codes if special foundations are required.
With over 20 years of experience in the floral farming industry, our Cumming landscapers create landscaping masterpieces that will improve the appearance of your entire neighborhood. We can't wait to get started on your landscaping project, so give us a call soon and we'll come out to evaluate your needs and your property!
Cumming, GA Landscape Design & Custom Structure Services
If you are looking for a Cumming landscaper, call A Flowering Field Designs at 770-241-6301, or fill out our online request form.
Our Cumming Customer Reviews
Flowering Field Designs is Rated: 5 / 5
based on these 2 happy customer reviews.
---
"Flowering Field Designs was just the perfect place to custom order my shed. I dealt directly with the owner (Joe LaCava) who couldn't have been more obliging. He made the entire process super easy and explained everything with great detail. The timeframe was exactly what he told me the day I ordered it and was there for everything. Thanks again for a great Shed."
---
"We have used Flowering Field Landscape services for the past 9 years. The owner, Joe LaCava provides visionary designs that meet the clients needs with aesthetic beauty in a cost effective manner. Flowering Field has provided to us extensive privacy-screening landscaping (with 10-12 ft specimens), colorful ornamental-tree installations, and 3D hardscape design. They offer end-to-end services from design and installation thru maintenance."
---