First Rate Alpharetta Landscapers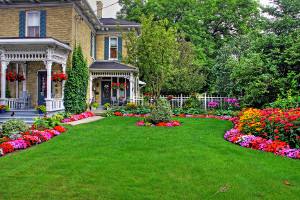 As an Alpharetta, Georgia homeowner, your landscape is important to you. We've helped many discerning homeowners like you create luxurious lawns, hardscapes, and landscapes that perfectly suit their beautiful homes and surrounding acreage. As the premier landscaping design company for Alpharetta, we start where we should with professional designs tailored to give you the best personalized experience.
From the very beginning, we take the right approach with our services, giving you custom structures, expert masonry, and advanced technology for your design stage. We can take your options in designs and show them finished and completed before we've ever began to work on them. Our focus and passion is on giving you the best experience we can and working hard to provide you with complete satisfaction.
Professional Landscape Design in Alpharetta
Alpharetta landscaping design your own home is a difficult task that takes lots of experience to get right, and most of our customers well know that it's a job that should be left up to the Alpharetta landscapers. Homeowners that attempt to handle the projects themselves soon find out just how hard it is.
Whether you've attempted to contract your own work out or have tried to do it yourself and found out you were in a little over your head, or you knew better in the first place, we'd love to help you with a great professional Landscape Design.
Don't struggle with where to begin on your project because all you need to do is give us a call. Our experienced Alpharetta landscapers will help you through all phases of your landscaping project from beginning to end. If you are planning on landscaping your home, start smart by hiring our professional landscaping company!
Alpharetta Professional Landscaping Company
Flowering Field Designs is an Northside Atlanta area landscape design company that can help you create a specific landscape that reflects your personal style. We have the ability to incorporate flowers, plants, trees, hardscapes, pathways and more. It is our goal to create long lasting designs that will look great even through the winter months. Let us show you several options in designs that will astound you!
Quality Outdoor Custom Structures For Your Alpharetta Property
We have a large selection of beautiful built exterior custom structures in Alpharetta with many colors to choose from.. Our buildings are constructed with quality craftsmanship that means you're getting the most for your dollar. Whether you're looking for storage, a place to house horses or smaller livestock, or you need a stand alone garage, we'd love to help you find what you need in the design and color you're looking for.
Alpharetta, GA Landscape Design & Custom Structure Services
If you are looking for a Alpharetta landscaper, call A Flowering Field Designs at 770-241-6301, or fill out our online request form.
Our Alpharetta Customer Reviews
Flowering Field Designs is Rated: 5 / 5
based on this 1 happy customer review.
---
"My wife and I were in the market for a custom built shed that exactly matched the look and feel of our new construction home. We contacted Flowering Field and spoke to Joe about our project. Joe listened intently and came to our house for a site visit. We discussed matching the architecture of our home including window frames, cedar shakes, roof shingles and color. Joe helped us visualize our project with 3D renderings and was very helpful as we emailed changes back and forth to each other. Joe is sharp and knows his stuff. He is timely and through. Site prep and delivery were no hassle and went as planned. In the end, we were extremely happy with the end result.

There was really no surprise as Joe sent us photos of the shed at different stages in the build process. It really was pleasure working with Joe and Flowering Field on our project.

If you are in the market for custom high quality work and not some store-bought prefabricated substitute, then look no further. I would highly recommend Joe and Flowering Field."
---