Professional Atlanta Landscaping Services
If you're an Atlanta homeowner and interested in improving your property with landscaping projects, Flowering Field Designs is your local Professional Atlanta Landscaping Service Company. We provide you with FULL services including professional design and drafting, expert masonry, custom structures, and an innovative landscaping project process that can't be beat.
At every step of your landscaping service, we strive to give you a personal touch because we know that a collaborative effort between us will end in project success. We listen to your design ideas, your needs, your wants and desires for your home's exterior. We care about giving you the best possible services because we want you to love your new landscape and we're passionate about helping our customers achieve the exterior of their dreams.
As your "one stop shop" for all your landscaping needs, our team of professional Atlanta landscapers, masons, and landscape specialists want you to know what it's like to experience the personal touch as we help you to beautify and improve the landscape of your Atlanta area home!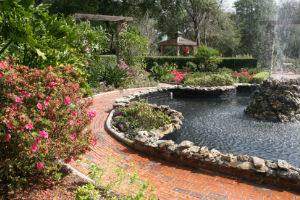 Flowering Field Designs gives you the most in Landscape Design services in the Atlanta area. Our full service landscaping company is professionally licensed to provide you with professional landscape design plans, landscape surveys, and landscape drafting services. From the beginning, you'll start off on the right foot that ensures your projects are professionally handled and completed by a company of experts who can handle your project and supply you with the proper documentation where needed. We're full of great ideas for all your landscape projects and can't wait to show you what your ideas could look like with our 3D landscaping design software and drafting services!Read More

---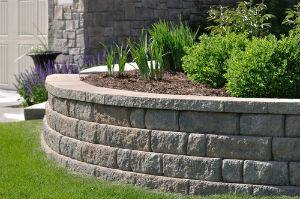 We have the best masons around at Flowering Field Designs. In order to work with natural stone, you have to be experienced and have a passion for the work. Our masonry professionals have years in the field and love to create beautiful walkways, walls, patios, driveways, foundations, clad siding, steps, columns, stone fencing, and more. Your landscape will have the most beautiful hardscape that combines wonderfully with the architecture of your home and the surrounding foliage.Read More

---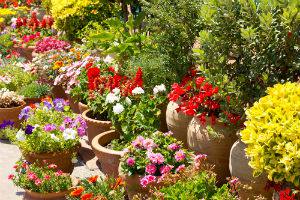 Whether you love container gardening for parties, as decoration for your patio or entry ways, or you love to grow herb gardens in them, potted plants or containers are a wonderful addition to any landscape or hardscape. Many plants will bring in butterflies, hummingbirds, or wonderful aromas to your porch or other outdoor spaces. Annual plants are put into containers and replaced as the season changes.
Container gardening services from Flowering Field Designs offers you an array of already potted plants for an "instant garden" or you can have any type of plantings you desire. We design plant groupings for your approval and photograph your deck or patio area with your favorite planters and urns.Read More

---
If you are looking for Landscaping services in Atlanta, call Flowering Field Designs at 770-241-6301, or fill out our online request form.