Professional Roswell Landscapers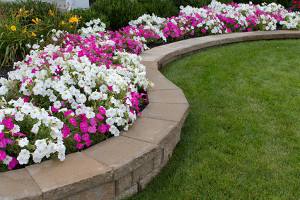 Your Roswell, Georgia home's landscape may need some help if it just isn't what you're looking for in an outdoor space. You have a beautiful home with standardized yard that needs an upgrade or some special features added to make it unique and functional for you and your family.
Outdoor space is a great place to spend time in the evenings with friends and family, but if yours is lacking in comfort or entertainment areas, it's difficult for anyone to want to go out there to spend time. Let us help you transform your dull, boring, lawn into a beautiful area of your dreams to spend quality time outdoors.
Whether your interests lie in outdoor swimming, play areas for the kids, puttering around in a garden, or beautiful patio areas for parties with guests spilling over to the outdoors, your home's exterior can be beautiful and function with help from our Roswell landscapers and experts at Flowering Field Designs!
Professional Landscape Design in Roswell
Roswell landscaping design, drafting, surveying, installations, and structure building should be handled only by licensed Roswell landscapers with long-term experience handling landscaping projects. Our company has worked hard for more than twenty years and are experts in the landscaping business.
We handle your projects with the personal touch, which is why we use the latest technology and tools to design your landscape options. We give you several to choose from and provide you with a way to see them before we ever begin the work. With our capability to provide you with 3D design and drafting, your current landscape is input and options overlaid so you can easily choose between them. You'll also receive a printout that you can use for permits. We help you take care of the permitting process, can do surveys, can built foundations according to code requirements, and more.
Cabanas For Your Roswell Home
Imagine the beautiful Cabana you could have next to your home's swimming pool. Can you see it? With our 3D design and drafting services, you'll be able to see just what your Cabana will look like before we ever even show you the real building.
You'll have many options in style so we can show you your exact landscape with several options so you can choose better. When we work with you, you have the advantage of working with experts who provide exceptional service to you, which includes our quality crafted structures. Our Cabanas and other structures can be customized for your needs as well.
Roswell Cabanas are great pool side structures that can be used for many things such as having a place to change into and out of swimsuits without getting the house wet. Also, they can serve as a place for guests, for barbecue or cooking kitchens and of course for all those great outdoor parties of yours! If you don't currently entertain, with a Cabana you'll have additional entertainment space for guests and parties! Our Cabanas are finished on the inside so you won't have to worry about a finished interior structure.
Roswell, GA Landscape Design & Custom Structure Services
If you are looking for a Roswell landscaper, call A Flowering Field Designs at 770-241-6301, or fill out our online request form.