Outstanding Buford Landscapers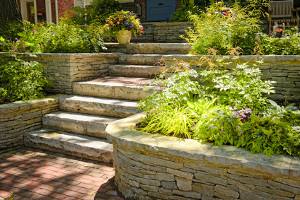 If your Buford home has a large yard, it would greatly benefit you to have it landscaped by a professional landscaping contractor. A landscaped yard can bring your home to life and add to the natural beauty of your house.
No matter how big or how small your yard, landscaping it can be extremely challenging. This is especially true if you are not familiar with what type of flowers, plants, or shrubbery will work best in our climate. Thankfully, you can hire a professional Buford landscape design company to make landscaping your yard easier and more affordable.
Professional Landscape Design in Buford
Flowering Field Designs is a Buford landscaper that specializes in helping customers find the perfect types of plants and flower to incorporate into their landscapes. With over 20 years of experience in the floral farming industry, our experienced landscapers are skilled in making Buford landscaping design look like masterpieces throughout all four seasons.
We work with you closely from the beginning, giving you optimal personalized service utilizing the latest technology in our industry. For instance, our 3D design and drafting services help you to visualize your landscaping options before work ever begins. For the best experience possible for your landscaping projects, start smart with Flowering Field Designs!
Professional Landscaping Services in Buford
Once we have your design all planned out and documented, our expert Buford landscapers begins work on your project. All our specialists work together to create a beautiful landscape that will astound you. Our expert masons take care of all your hardscapes from walkways to patios to retaining walls and siding cladding for your outdoor structures.
If you have outdoor structures incorporated, you'll have a large selection of building types, colors, and customization options. We're not finished with your projects until you're completely satisfied, which is just one way we provide you with the personalized experience you're looking for!
Cabanas For Your Buford Home
You'll love our options in Cabanas here at Flowering Field Designs near Atlanta, Georgia. We have several examples of Buford Cabanas configurations for you to take a look at, with options in style, siding materials, and space. Not only useful for you and family or friends, the construction of a Cabana can add value to your home. Imagine your swimming pool area with the addition of great little Cabana where you can house guests, entertain, change out of swimsuits without getting the house all wet, cook or barbecue for parties, lounge around, or use as your man cave or hobby studio!
Buford, GA Landscape Design & Custom Structure Services
If you are looking for a Buford landscaper, call A Flowering Field Designs at 770-241-6301, or fill out our online request form.