North Atlanta Landscape Design Services - 3D Landscape Design and Drafting in Cumming, GA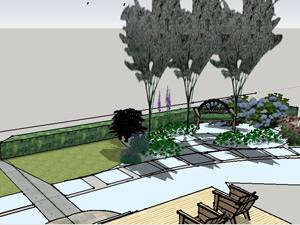 As Atlanta area's premier Landscaping Company, Flowering Field Designs offers you the best in Atlanta landscape Design and Drafting services. A beautifully landscaped property maximizes your property value and your pleasure as you spend time outdoors.
Our experts can transform your lawn into beautiful, functional spaces that enhance your love of your home and bring you many years of happiness. All we need to get started is a great plan, and that's our specialty at Flowering Field Designs.
In fact, the design phase of your landscaping projects are critical and this is why our customers love the support we give them during this phase. While all steps in the process of starting and completing your landscape project are important, the design phase is the most important because everything else builds off the planning stage.
With the right plan to carry out the project, the results will be just what you had in mind for your landscape, and problems or surprises will be reduced to a minimum. Our team is passionate about helping you with whatever services we can in order to provide you with the proper support throughout the process.
3D Animation Cumming, GA Landscape Design & Drafting
Our professional Atlanta landscapers, make it a point to stay up to date on all the latest technology so we can in turn provide our customers with the best services around. With our 3D animation Landscape Design & Drafting tools, we can provide you a higher level experience for your landscape projects than most of our competitors.
Your site is first measured or surveyed and a 3D view of the property shows you visually what your landscape currently looks like. You can even take a virtual tour of the imagery. We can then add in any plantings or structures and you can see what they would look like fully built. Whether it's plants, flowers, trees, shrubs, walkways, stone retaining walls, pavilions, pool houses, barns, sheds, garages, or any other landscape project, you'll be able to see ideas before the work ever would begin.
Once you decide on the details of your landscaping project, we'll provide you with a printout of the drafted design plan. While we'll be using this information to complete the project, this document can be used for permits if required by your local code enforcement authorities as well.
Why North Atlanta Wants Professional Landscape Design Services From Flowering Field Designs
Our 3D Landscaping Design and Drafting Services is one method in which we give you personalized, FULL service. From the initial ideas we gather together with you to the final project completion, we'll help you every step of the way. You'll have a customized experience with the advantages of having the newest technology on the market, so you can fully enjoy the entire project without worrying about a thing. Giving you this type of personalized service is what we're most passionate about at Flowering Field Designs
Recent Articles
We leaped at the Leyland Cypress as the evergreen of choice (a.k.a xCupressocyparis leylandii). The growth rate is 3ft per year, reaching 60ft high and 12ft in diameter with tight deer-proof foliage. Our Landscape Designand planting servicesincluded a curved double-planted row of 25 12-14ft specimens. About 8 years later...

---

There's nothing like a little outdoor fun during the summertime here in johns Creek, Georgia. Many families enjoy swimming, barbecuing, picnicking, fishing, boating, and more. Beautiful homes with beautiful landscapes sport plenty of areas for entertaining guests and family with plenty of room for the kids to play around and have fun.

---
If you are looking for Landscaping design services in Atlanta, call Flowering Field Designs at 770-241-6301, or fill out our online request form.