Exceptional Milton Landscapers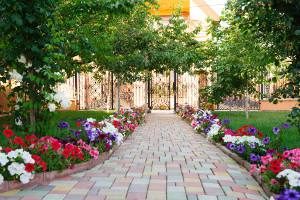 Our area of the country here in Milton, GA is a beautiful place to live, and our landscapes can be just as beautiful with the right touch from our professional Milton landscapers and Landscape Design professionals. We bring you quality when we work for you, and we focus on providing you with a pleasurable experience with nothing to worry over. We can design and build your landscaping, hardscaping, and outdoor structures from start to finish, helping you every step of the way.
Our personalized services are set apart from competition with high quality workmanship, customer service focus, satisfaction guarantees, top rate designs, expert masonry specialists, and more.
Professional Landscape Design in Milton
Milton landscaping design, drafting, surveying, installations, and structure building need to be done by licensed professionals who have plenty of experience handling landscaping projects. Our team consists of ready experts who can handle your projects, giving you beautiful views right out your door like you've always wanted. If you're home sits on a boring lot, we can design something truly awesome that will astound you. From water features, outdoor patios, hand built structures, expert masonry work, lush foliage options that stay beautiful year round, and more are what our experts can give you.
Professional Landscaping Services in Milton
The best way to design and install a beautiful landscape for your Milton area home is for our professional Milton landscapers to take care of it for you. Our professionals at Flowering Field Designs are ready to help you with your landscaping projects, offering you the personalized touch every step of the way. We have the technology, tools, skill, experience, and everything we need to handle your landscaping design, installation, and structure installations no matter how large or small your landscaping project is.
Cabanas For Your Milton Home
When you're outside enjoying your gardens or swimming pool, wouldn't it be great to have a Cabana nearby where you can get out of the sun and enjoy something to drink? Cabanas make great pool side structures, providing you many options such as having a place to change into and out of swimsuits without getting the house wet and messy.
You can use them as a place for guests, as barbecue or cooking kitchens for outdoor parties and more. Our Milton Cabanas are finished on the inside so you're ready to go when the structure is set up. Our buildings come in many styles, types, and color choices.
Milton, GA Landscape Design & Custom Structure Services
If you are looking for a Milton landscaper, call A Flowering Field Designs at 770-241-6301, or fill out our online request form.