Beautiful Shade Pavilions For Your Atlanta Home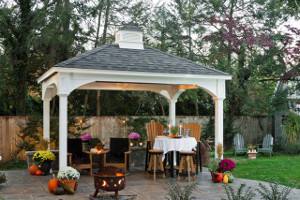 When you're looking for a great way to provide shade in your outdoor landscapes, our Pavilions in Atlanta are what you're looking for. These structures are the perfect solution for a shady refuge when spending time outside. Whether you like to garden, do yard grooming activities, swim in the pool, play on the lawn, barbecue, or entertain guests, the Pavilion's simple structure gives you shade where you need it while maximizing the potential to enjoy breezes.
Your Pavilion from Flowering Field Designs can be customized with roof pitches, pillars, and overhangs to make the structures unique and all are constructed with the same great, high quality craftsmanship desired by so many homeowners.
The wonderful thing about Pavilions is they can cover small areas or large. Just as they are in city parks or recreational areas, the Pavilion area can cover large groups or just a small two-seated area. So depending on what you want to use them for, they provide the right amount of shade or coverage to protect from the heat of direct sunlight or inclement weather conditions. Plus, they add a charm and appeal to your landscape design.
Outdoor Pavilion Ideas For Garden or Pool Side Activities
Pool Side Pavilions can add comfort and shade to your swimming pool areas. Used to cover outdoor kitchen spaces, outdoor fireplaces, fire pits, lounges, or seating areas, the Pavilion consists of a poled structure with solid roof. Locating the Pavilion near your swimming pool means you'll have plenty of space to lounge around without having the sun beating down on you. As one of the simplest outdoor structures, they can be placed just about anywhere. Add a cool ceiling fan to your Pavilion and enjoy a great breeze that's refreshing and wonderful when you're spending time outdoors!
Garden Pavilions are usually smaller structures than Pavilions meant to cover several people. These structures enhance your pathways and garden side areas. Whether you have a fantastic vegetable garden or flower garden, the Pavilion gives you a place to rest out of the sun when you're working outside or enjoying a nice rest near your fragrant garden areas. Imagine looking down your walkway onto a lushly planted area and off to the side is a private little path that leads to a small Garden Pavilion sporting seating for two!
Pavilions In Place of Covered Patios
Since the Pavilion is a free standing structure, it can be constructed just about anywhere on your lawn or hardscaped areas. They make perfect covers for your existing patios or outdoor living spaces. Instead of adding on to your home's roofing structure to construct a cover for your gorgeous stone patio, consider the addition of a simple, but beautiful, Pavilion to bring you that much needed shade when you spend time outside.
Pavilion Enhancement Ideas
With your choice in Pavilions, you'll have options for the landscaping and hardscaping design located under and around the structure. Pavilions don't come with a foundation, but they can be constructed on top of an existing foundation or hardscaped area if that is the type of structure you desire. They can also be left plain with some simple landscaping options to use as flooring such as pavers, pine needles, gravel, natural stone options, wood, or other materials. Call your Atlanta Landscapers today!
Recent Articles
There's nothing like a little outdoor fun during the summertime here in johns Creek, Georgia. Many families enjoy swimming, barbecuing, picnicking, fishing, boating, and more. Beautiful homes with beautiful landscapes sport plenty of areas for entertaining guests and family with plenty of room for the kids to play around and have fun.

---

Your choices in natural stone for your Atlanta area home landscaping project are wide open. No matter your favorites in natural stone, our Masonry specialists at Flowering Field Designs are ready to build to suit your preferred landscaping design plans. Natural stone comes in many forms of real stone quarried or taken from the earth.

---
If you are looking for Pavilions services in Atlanta, call Flowering Field Designs at 770-241-6301, or fill out our online request form.