Custom Two-Story Garages in Atlanta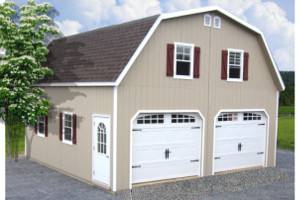 Adding a Atlanta Two-Story Garage to your area home is a great way to bring you extra space to store your vehicles or other items. Sporting overhead doors that can be controlled wirelessly, you have easy access to everything inside and an easy way to move it in and out when needed. Whether you need additional garage space to park ranch equipment, farm equipment, or boating equipment, the Two-Story Garage is the way to go.
2-Story Garages from Flowering Field Designs are the perfect solution to large storage needs on a small footprint. These buildings can help you organize your vehicles and tools by blending convenient storage solutions into your backyard. They can also provide you with a way to add additional living area to the property. The upstairs to the garage can be converted into living space so you can use it as a studio, office, or for guests.
Designing Process for Your Two-Story Garage in Cumming, GA
Our design process lays out the top view of your yard in a scale drawing that shows town permit regulations. The traffic flows of your backyard spaces and your important views can then decide the right location. Our landscape design can soften the impact of the new building while laying a robust foundation, custom ramps, walkways, and a surrounding array of plants.
Custom Options for Two-Story Garages
We can customize the second floor and shelf space in these structures. The wall height and roof pitch can be varied to supply extra storage volume. As usual, we supply staircases, railings, stiff flooring, and 5/8" plywood. Additionally, we can configure for a concrete slab garage floor by anchoring treated lumber to the slab.
Quality Built Two-Story Garages
The structures of our exterior buildings carry a reputation that echoes 30 years of experience and a written limited warranty.
The construction of the second story requires on-site construction for one or 2 days. Where special foundations are required by permit authorities, we can design and build the required foundation.
The Flowering Field Designs Difference
At Flowering Field Designs, we provide you with FULL SERVICE from the moment we're contacted to discuss your needs. From design to delivery, you have every opportunity for customized assistance. You'll have several advantages with our company that utilizes the latest tools that help you to visualize your choices. Our 3D drafting technology gives you even more advantages to help you find just the right structure for you!
We have several examples of 2-story configurations available for you to take a look at. Our Atlanta Landscapers can duplicate or simplify any of the models shown and give you additional options and colors. Our construction is expedited with pre-cut sections and tested building techniques. The average savings is expected to be 40% of any stick-built construction. Give us a call today for your quality, custom built Two-Story Garage!
Recent Articles
There's nothing like a little outdoor fun during the summertime here in johns Creek, Georgia. Many families enjoy swimming, barbecuing, picnicking, fishing, boating, and more. Beautiful homes with beautiful landscapes sport plenty of areas for entertaining guests and family with plenty of room for the kids to play around and have fun.

---

Your choices in natural stone for your Atlanta area home landscaping project are wide open. No matter your favorites in natural stone, our Masonry specialists at Flowering Field Designs are ready to build to suit your preferred landscaping design plans. Natural stone comes in many forms of real stone quarried or taken from the earth.

---
If you are looking for Two-Story Garages services in Atlanta, call Flowering Field Designs at 770-241-6301, or fill out our online request form.