North Atlanta Custom Garage Sheds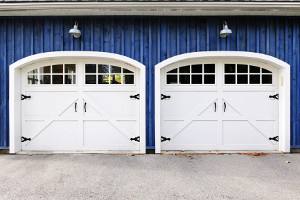 An Atlanta Garage Shed may be just what you need for your property. They're great for giving you additional storage space to include large farming equipment, marine vehicles, riding mowers and other lawn care tools, and so much more. All our buildings are quality built with the highest workmanship available in the area.
Whether your home has an attached garage or not, the Atlanta Garage Shed gives you additional protected space for your vehicles or other equipment. As a stand-alone building structure, the Garages can be of size to store just one vehicle or several
While the Garage Shed has overhead rolling doors, at Flowering Field Designs, we can also provide you with models that have double side-opening doors as well. Most Garage Sheds are customized with a concrete foundation that will support heavy vehicles. While a regular shed normally has all types of foundations including wood, gravel, or just dirt or sand.
When we design your landscape that includes the construction of a Garage Shed, we'll show you options in some hardscaping solutions as well as plant solutions that will go great with the Garage Shed. Our professional Atlanta Landscapers at Flowering Field Designs can customize your outdoor spaces any way you like, including adding on beautiful natural stone siding or retaining walls to the area to match your home's style.
Designing Process for Your Garage Sheds
Our design process lays out the top view of your yard in a scale drawing that shows town permit regulations. The traffic flows of your backyard spaces and your important views can then decide the right location. Our landscape designs can be used to enhance the new building. You're building can be designed to include a surrounding array of plants, flowers, bushes, or shrubbery that bring color and softness to the structure.
Custom Options for Garage Sheds
We can customize the loft and shelf space in these 1-story structures. The wall height and roof pitch can be varied to supply extra storage volume. As usual, we supply stiff flooring with joists 12 inches on center and 5/8" plywood. In addition, you're customization options include the configuration of a concrete slab garage floor by anchoring treated lumber to the slab. We can lay a robust foundation, custom ramps, walkways, and a surrounding array of plants. Where special foundations are needed according to your area's permit authorities, we can design and build the required foundation.
Quality Built Garage Sheds
The Garage Sheds from Flowering Field Designs are built with quality and precision. Unquestionable craftsmanship and customization options give you the best choices in the area for a beautiful Garage Shed that goes well with your home's architectural style.
Recent Articles
There's nothing like a little outdoor fun during the summertime here in johns Creek, Georgia. Many families enjoy swimming, barbecuing, picnicking, fishing, boating, and more. Beautiful homes with beautiful landscapes sport plenty of areas for entertaining guests and family with plenty of room for the kids to play around and have fun.

---

Your choices in natural stone for your Atlanta area home landscaping project are wide open. No matter your favorites in natural stone, our Masonry specialists at Flowering Field Designs are ready to build to suit your preferred landscaping design plans. Natural stone comes in many forms of real stone quarried or taken from the earth.

---
If you are looking for Garage Sheds services in Atlanta, call Flowering Field Designs at 770-241-6301, or fill out our online request form.