Landscape Design for a Woodland Border in Dawsonville GA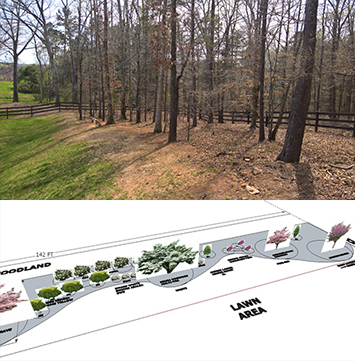 Our customer had a 140-ft back border with clean mature woodland. (The entire backyard is fenced, so deer browsing is not a problem.)
The desire is to enhance the views from house and patio, so that 20ft x 140ft of the woodland provides colorful views for all 4 seasons.
The slideshow below shows the bare woodland, some landscape plants, and the final planting design in a 3D scaled drawing.

The landscape design objective is to plan for blooms and brilliant fall color for early spring, spring, summer, and fall.
Please pause on the scaled drawings and take notes for your own dream plans, then fill out the customer contact form for our site visit and survey.
Photos of Landscaping project
Dawsonville, GA
If you are looking for dawsonville, GA landscaper, please call Flowering Field Designs at 770-241-6301 or complete our online request form.