Top Advantages of Roswell Custom Sheds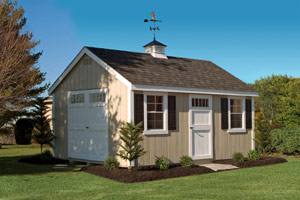 If you have worked hard to have the Roswell home of your dreams, then hopefully by now you are pretty close to having everything you could possibly want. So now it may be time to give some thought to having the custom shed that you have always wanted. This can do so much for your home, you are going to be amazed in all the ways that this can change and improve your life.
Is A Custom Shed Right for You?
Homeowners often make the mistake of thinking that the prefab sheds available for purchase at many home improvement stores are all that you need. While this is certainly better than nothing, it is still about customizing your shed in order to have it best serve you. There is no point in making this type of purchase and going through the hassle of having it relocated to your yard but not having the layout or features that you need.
Custom shed construction provides you with the flexibility in function and design that you need. This will be the best way to work with the layout and amount of acreage your have on your property as well as work best for what you intend to use it for. Sheds are about more than just storage – or at least they could and should be. This includes making sure that your shed is constructed of stunning masonry or other options so that it can enhance your yard instead of act as an eyesore. Get the materials, colors and style that you want by making the smart choice to work with only pros to get the job done!

The Best in the Business
At Flowering Field Designs, we take great pride in the work that we do and that shows in the results we get, no matter what type of project it is that we complete. This includes custom sheds that can serve as a variety of essential things such as:
Pet Shelters
Marine Vehicle Storage
Crafting Activities
Playhouse for Cooler Weather Months
Toy Shed
Plus so much more
So what can we get done for you today? Even if you are not yet sure of what you want to accomplish by adding a shed, let us meet with you to review with your the options you have and hope to inspire some ideas. We are the local leading service provider for a large amount of exterior services in the Roswell area, including being able to provide you with quality, custom sheds, so give us a call today to get started.
If you're looking for custom sheds for your Roswell property, call Flowering Field Designs at 770-241-6301, or fill out our online request form.