Design Principles For Landscape Lighting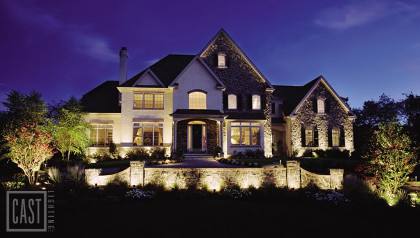 These Landscape Design Principles are presented as useful for a wide variation of landscapes. The fixtures, lenses, bulbs, and transformers are a deeper set of site-specific choices for future forums. These ideas are gathered from lighted scenes that were expertly designed and photographed, so we can take away the broad-brush concepts before we tour your landscape.
This is the welcoming view at dusk from curbside. The scale of the home is immediately known as the biggest gables are lighted from below. The masterful matching of near and far masonry surfaces shows an attention to detail that is not seen often. The ornamental-scale trees are featured with up-lighting so the view is framed with softness and color.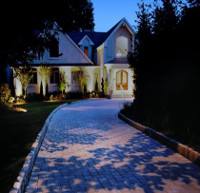 As you turn from curbside to the driveway, the way is shown via moon-shadow lighting. No glaring point sources distract you from the welcoming home façade. Only branch shadows and soft lighting points the way. Lighting Fixtures are mounted on a tree trunk, above the first layer of branches.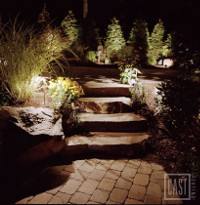 The first approach to entry should be similar, without a glaring point source of light. The stairway can be lighted from sources behind plants, so that the "step-up" transitions are clear. The area beyond the steps are lighted similarly by showing off some major plantings and surfaces.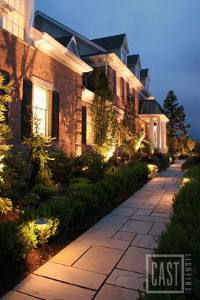 Finally, the approach to main entry! Notice how the path lights are spaced without overlapping. The fixtures are placed safely away from lawnmowers while leading you down a long path. The façade is lighted upwards to reflect the roof line without any glaring points of light.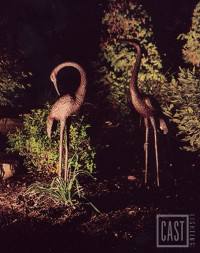 Along the path, the owner's favorite statues can be lighted. We take special care to light contrasting foliage that makes an interesting view for their guests.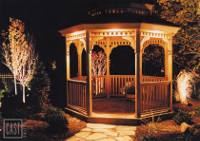 Later, the guests can relax on the rear patio. The hand-crafted gazebo is shown off with bright indirect lighting, so it might invite an evening stroll and visit. This would be a perfect setting for two cigar smokers!