Landscaping Design Ideas : Dogwood Borders for Pleasing Long Views
A recurring landscape design problem is "what to do with the long views?" The question often arises when seeing a residential backyard for the first time. I have noticed that in Georga, most views from the patio and the rear windows fall upon a monotone of evergreens or fencing.
Local Georgia Landscape Design
Being a local Cummings landscaper, I propose a clockwise sequence of blooming dogwoods to sparkle the long views. The clockwise sequence is strictly to appease my sense of order; in other words, it is arbitrary or changeable according to the site. There may be local shade or soil conditions that can disrupt the sequence with some delayed blooms.
Here is a quick simultaneous view of 4 dogwoods as they peak from February----- July:

The timing of these blooms is based on my Zone 7b experiences in Forsyth County, Georgia; and some "Doc" Hamilton lectures in Landscape Plants at Rutgers.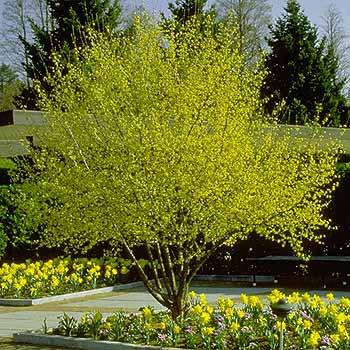 The first to bloom in mid February is Cornus Mas (Corneliancherry dogwood). According to Dirr , the cultivar "Spring Grove" is a yellow-blooming tree form that grows to 20 ft. by 25 ft. May and June bring a display of bright red berries for the birds or your preserves.
The branches are close-knit, yielding long green leaves that hold late into fall, then display a brilliant purple-red fall color. The tree is tolerant of heavy clay and acidic soils, unlike most dogwoods. The next bloomer is the standard Cornus florida or "flowering dogwood," which blooms in late March and early April. The flowers are white-yellow but the dominant bracts surround the bloom to make a handsome 3-4 in flower. The bract colors can be white, pink or red; depending on the cultivar chosen. All have brilliant red berries and brilliant fall color as treats after the main show in spring.
The cultivar shown below is the brilliant C. florida "Cherokee chief." Dirr1 reports this cultivar to be disease-resistant and "garden-tested" against mildew and anthracnose. It will grow to 20 ft. by 20ft., and will display the most pleasing tiered branching structure as an under-story tree. The branches will reach out and spread their show of brilliance in early April. The beauty of this tree is in its strong tiered branching structure, which is encouraged by planting in partial shade. The soil should be well-drained, moist and slightly acidic.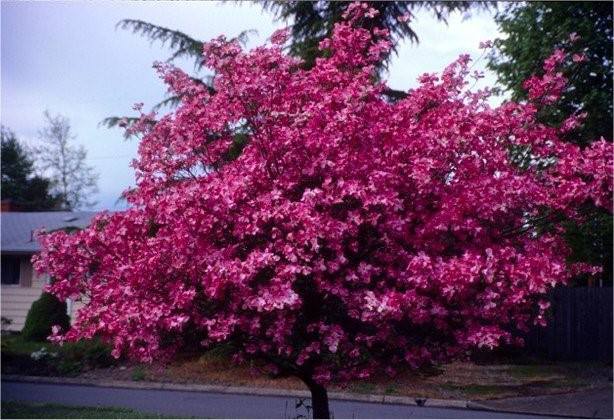 The branching below is too tight for my tastes, probably due to a full-sun location.
The next bloom season was created by Dr. Elwin Orton of Rutgers University. He developed the Rutgers hybrids Cornus xrutgerensis ( C. kousa x C. florida); giving us the cultivars Aurora, Celestial, Constellation, Ruth Ellen, Saturn, Star Dust and Stellar Pink (all trademarked). The result is an intermediate dogwood with intermediate characteristics and more resistance to dogwood anthracnose. The most notable here is the bloom time that follows C. florida by 2 - 3 weeks.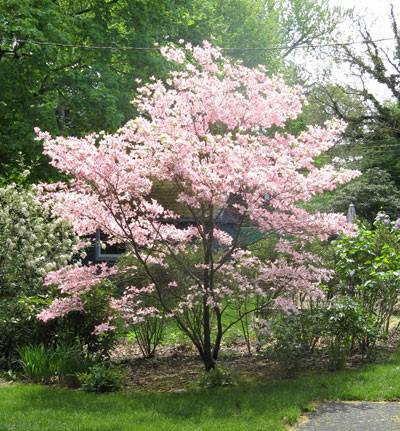 The net here is the bloom cycle that fills in the 3rd and 4th weeks of April, and into early May; when most outdoor parties are scheduled. The stunning C. rutgerensis Stellar Pink is shown below. Notice that the branching structure and the bract sizes approach those of C. kousa.
The final dogwood bloom cycle can be the longest. Cornus kousa can produce a stunning show from May 1 to June 30. The creamy-white bracts can span from 2 to 4 inches in diameter while they are displayed on broad branches. The tree starts out vase-shaped and migrates to a round 20 ft. by 20 ft. form. It is about half a zone more cold-hardy than C. florida and has more tolerance for poor soils. C. kousa has more resistance to anthracnose and has the better fall display of deep red color.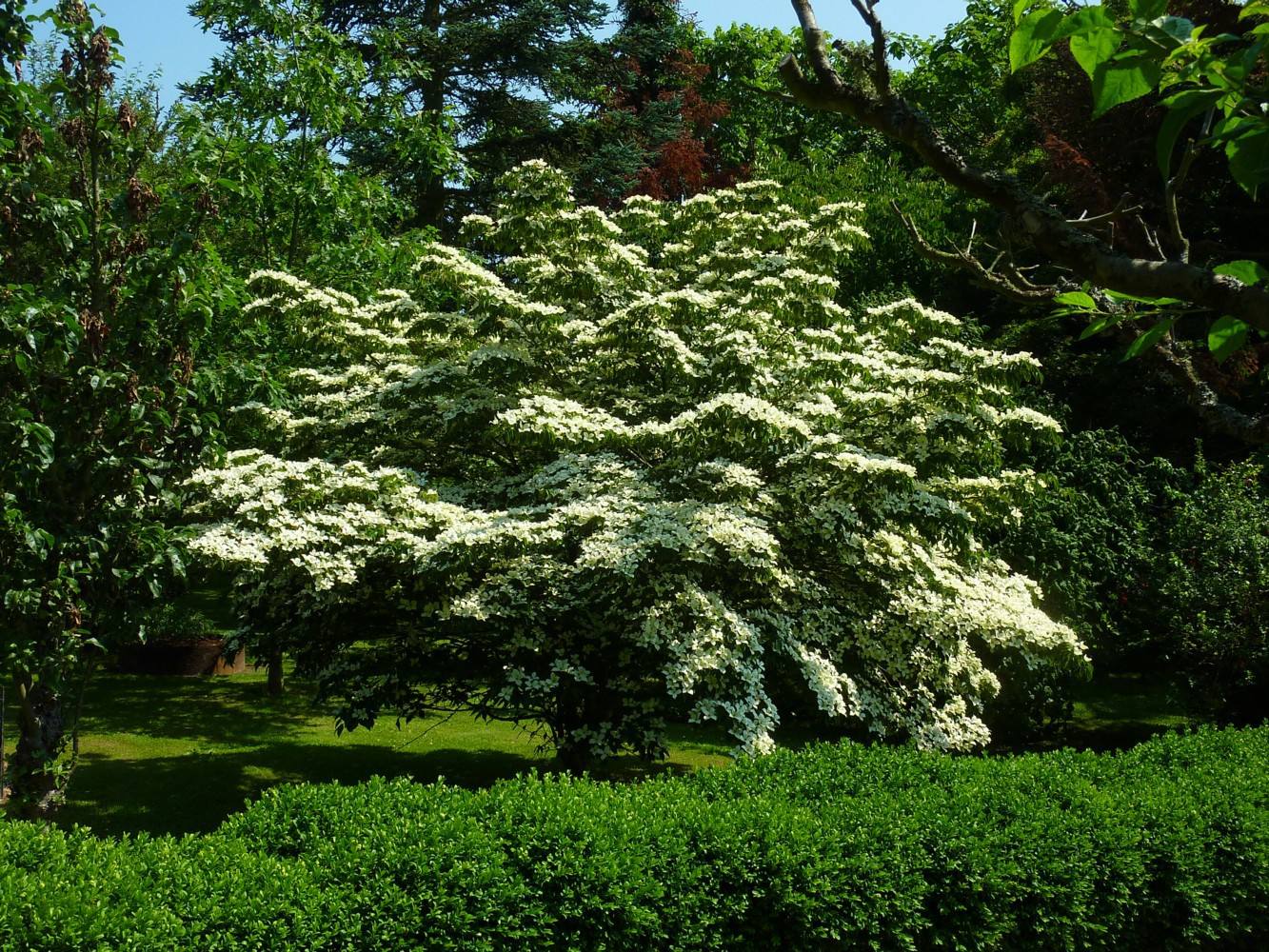 The finale is the best! Ending the bloom sequence and this article with C. kousa saves the best dogwood for last. The July-October continuation of the bloom sequence is reserved for follow-on work. So in essence there is alot of thought going on in all our landcaping projects.
Operators are standing by at www.floweringfield.com where you can request a site visit In the North Atlanta area, around Cumming GA 30041.
If you're looking for Altanta landscape designer, call Flowering Field Designs at 770-241-6301, or fill out our online request form.